HLPFI takes a look at the shortlist for the 2020 Innovation Award, sponsored by Wallenius Wilhelmsen Ocean.
The judges were looking for a company that has developed an innovative piece of equipment or technology designed to improve the lift, transport or handling of heavy and oversize cargoes.
Our shortlist for the Innovation Award for the Heavy Lift Awards 2020:
Eilon Engineering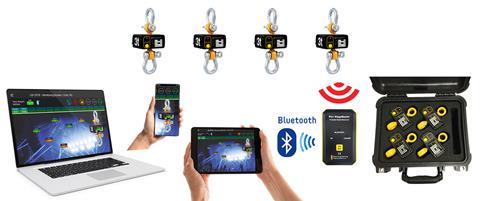 The Ron CraneMaster from Eilon Engineering is a multi-point load monitoring system comprised of up to 200 wired or wireless load cells. Used in a variety of industries and applications, the system combines high accuracy, reliable wireless transmission, innovative load cell body design, and proprietary software to provide a new level of safe lifting. The use of Bluetooth allows operators to monitor up to 200 individual lifting points on one screen. The system is lightweight and portable, yet exceptionally strong and durable. Unique, 90-degree offset shackle holes increase stability and safety.
Hareket Heavy Lifting & Project Transportation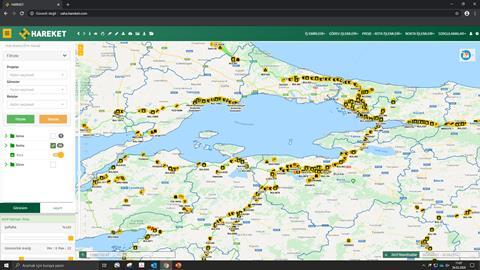 Road surveys are crucial for oversized and heavy transport projects, and they often require a considerable amount of time and effort. As such, Hareket developed an innovative route planner that helps this process from the planning to the execution. Handheld devices are utilised to collect data that is then inputed into software especially developed for surveys. This generates a safe route to your destination, which can then be easily followed by the driver, who will be notified of approaching obstacles and hard turns.
KAMAG / TII Group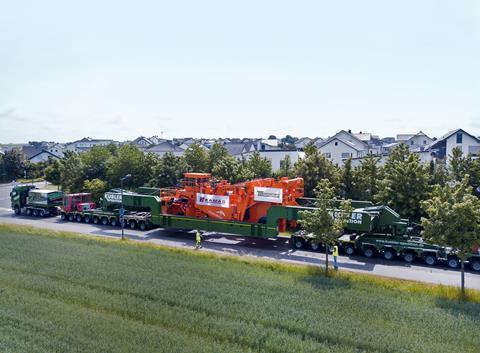 The slab transporter from Kamag has been designed in cooperation with a leading global steel manufacturer to meet the extremely tough requirements when it comes to the lift and transport of hot slabs weighing up to 150 tonnes. The machine is equipped with grippers to raise the slabs at a temperature of 900°C; has numerous protective measures so that it can operate in hot environments; and is the world's first slab transporter with four operating modes, which includes the ability to execute fully autonomous operations.
Mammoet
Mammoet's Trailer Power Assist (TPA) – a powered trailer system designed to provide an efficient, more sustainable and cost-effective solution to the world's most complex transportation challenges – significantly lowers the carbon footprint of long-haul heavy transport projects, eliminates the need for multi-truck configurations and increases manoeuvrability, all without sacrificing power.
The combination of TPA's increased power, traction and control enables transport along routes that would otherwise have needed costly infrastructure work or else have been ruled out entirely. TPA's speed and safety attributes help bring client deadlines forward while also mitigating the environmental impact of long-haul transports.
ShipNext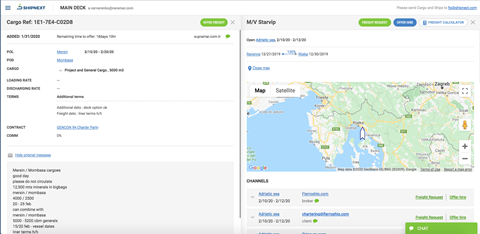 ShipNext is a digital shipping solution that uses natural language processing, machine learning, artificial intelligence, big data analysis and linear programming to create instant solutions for all types of cargo, regardless of its size, type and destination. It connects and processes a growing number of data sources, including email flows, to create an efficient digital shipping marketplace and cargo booking platform.
St. Lawrence Seaway Management Corporation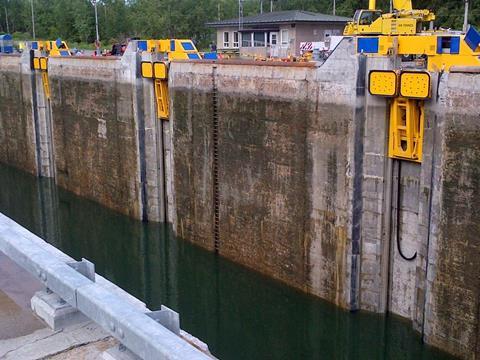 The implementation of hands-free mooring (HFM) at all St. Lawrence Seaway locks enables the remote operation of locks from any location, increasing personnel efficiency and safety, both for the seaway and its customers.
HFM provides time, safety and monetary benefits to carriers by reducing the overall cost of vessel transits, while expanding the number of potential vessel options from 800 to over 8,000. This capacity will, in turn, help the seaway maintain and remain a competitive modal option, ensuring the gateway's long-term sustainability.
Straightpoint - The Crosby Group

The Insight Software and Wireless Loadcell range from Straightpoint enables the connection of up to 126 Straightpoint wireless load cells onto any Windows tablet or laptop.
One of the main features of the range is the multi-channel display and data logging mode, where users can view and log load data from connected load cells live on screen and directly into a csv file for later analysis at speeds of up to 200Hz. For complicated lifts, users can import a photo of the lift and drag and drop load cell displays in the visualisation mode to create an image that looks like the lift. In the centre of gravity mode, users can connect to Straightpoint's range of wireless compression load cells and use this feature to weigh and calculate the centre of gravity of large items and structures.
The winner of this year's Innovation Award will be announced in October.
Find out more: www.heavyliftawards.com