Project cargo flows into the USA during the pandemic have been hit in multiple ways, but AAL Shipping has seen an increase in breakbulk demand, driven largely by the wind energy industry.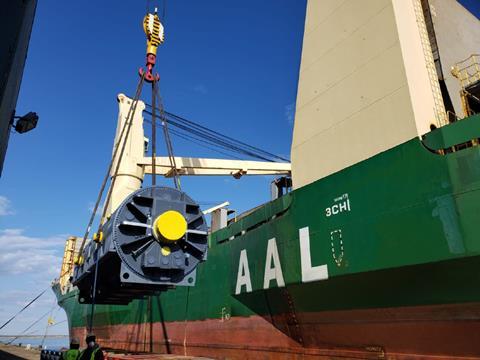 During May and June, AAL completed 12 multipurpose sailings to the West, East and Gulf coasts in the USA – a record presence for the Singapore-headquartered shipping line. The sailings were a direct response to the increase in demand.
"There has been a significant portion of cargo on these vessels representing the energy sector: particularly for wind, but also power generation and LNG components," said Felix Schoeller, general manager of AAL Shipping. "We have also been carrying a fair bit of steel products, where we are gaining market share."
In February, even as supply chains started being affected by coronavirus, AAL shipped wind energy equipment from Asia to the USA. However, the production of equipment needed for wind farms took a hit as facilities in China shut for an extended period in the first two quarters of the year, adding pressure to the already tight supply for wind turbine components.
The supply chain constraints caused by Covid-19 will likely delay some planned projects. Industry analyst Wood Mackenzie forecasts that among the 18 GW of wind energy capacity that was set to come online in the USA during 2020, only about 15 GW is expected to be commissioned.
The impacts on the project schedule, according to AAL, depends on how mature the project lifecycle is; projects nearing completion have generally pushed ahead, whereas less mature projects have been badly affected with some put on hold, postponed, or even cancelled, causing potential cargo volumes and rates to fall with them.
Nevertheless, if manufacturers are able to make up for lost production time after reopening, AAL expects to benefit from the surge in cargo volume in due course.
Meanwhile, US bulk commodities, on which AAL relies, took a sharp fall when Covid-19 peaked. The low levels of cargo remaining are being snapped up at low and unsustainable levels, added AAL.
The US oil market is also tracking behind earlier projections; LNG projects have been hit hard with funding issues and lack of long-term contract purchases. However, wind projects seem to be weathering the storm and demand for clean energy projects look set to continue.