On March 21, 1971, Marítima Dominicana (MARDOM) was established in the colonial city of Santo Domingo with the goal of improving the Dominican Republic's existing connections with the rest of the world. Now, the company can look back on half a century of success as it continues its commitment to supply chain solutions.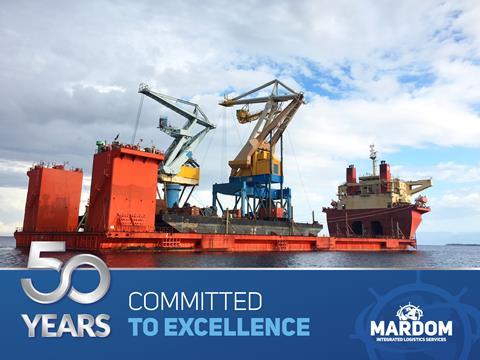 "We began as a ship agent and stevedore in all Dominican ports," said executive vice president Karsten Paul Windeler, who is the son of co-founder Karsten Hermann Windeler and nephew of co-founder Gustavo Tavares Espaillat. "It started with the shipping line Mini Line, which offered cargo services from the US Gulf to Central America. My father was able to convince the company that they should have a call in the Caribbean, and from there the line started a breakbulk cargo service calling in the Dominican Republic," he explained.
From the company's origins, handling breakbulk cargo has always been a part of its offering – even in the first year of operations when MARDOM consisted of just three employees, the goal was to improve the existing maritime routes of the Dominican Republic. Now – with 1,200 employees and attending to over 2,000 vessels annually – Windeler commented: "We witnessed the evolution of that dream."
He reflected: "A lot of hard work has allowed us to achieve important milestones, including diversifying into logistics, warehousing, distribution, Customs clearance, inland transportation, and projects."
The diversification of MARDOM's services has meant that the company has stayed ahead of the game – shifting to adapt to the market. "We started by handling dry cargo, and then in mid-90s began to provide services for refrigerated cargo – mainly bananas out of the port of Manzanillo – and that resulted in refrigerated cargo becoming one of our main areas of expertise," recalled Windeler. "Today, our ship agency and stevedoring services cater to all types of vessels – containerised, bulk, liquid bulk, breakbulk and project cargo, for both import and export."
Supporting this growth in services was the relocation of MARDOM's head office to Río Haina in 1992. "When we moved offices, we also undertook the construction of the first private warehouse for the consolidation and deconsolidation of cargo in the Dominican Republic – this was our first major step into logistics," said Windeler.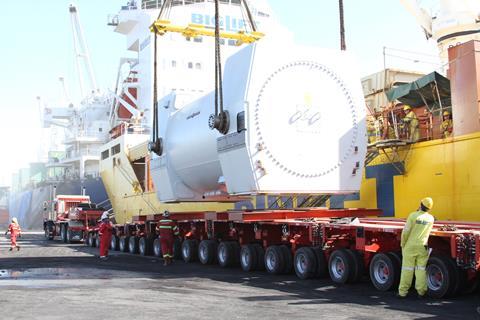 Another milestone came in the early 2000s with the formation of MARDOM Projects. This division offers specialised services for the handling of heavy lift and oversized project cargo; the experienced staff assures expert management during all stages of a project.
Across the 20-year history of MARDOM Projects, the division has supported many of the Dominican Republic's most important projects – the AES LNG terminal and power plant, cargoes for which included an LNG storage tank and pipeline components; the Pueblo Viejo gold mine; the CORMIDOM copper mine; water works projects; and various wind farm developments in the country.
Windeler pinpointed the 2010 Pueblo Viejo gold mine work as one of the company's most notable projects. "It involved the heaviest pieces of cargo ever handled in the Dominican Republic – autoclaves that weighed 700 tonnes." The units arrived at the port of Samaná, in the northeastern part of the island. MARDOM acted as the ship agents and stevedores, and, in cooperation with one of its partners, coordinated the inland transportation and Customs clearance.
The diversification of its services has certainly contributed to the company's growth. "With a diverse cargo base, we have transformed into a one-stop-shop integrated logistics provider," commented Windeler. "We can help our customers with their supply chain at every stage, from origin to destination."
Underpinning this growth has been MARDOM's commitment to excellence. "We always want to provide a quality service to our clients, to meet their needs, comply with all the contracted specifications, and, of course, apply all the best practices of the transportation industry regarding cargo handling.
"One lesson we have learned across our 50-year history is to have long-term relationships with our customers and our business partners. We really like to work with multinational companies that appreciate our quality certifications – we are ISO 9001 certified; an authorised economic operator; certified environmental care in accordance with ISO 14001; and work in line with the OSHA standard for occupational health and safety."
Providing a safe workplace for its employees and collaborators has been a pillar of MARDOM's operations since its inception. Likewise, a focus on constant improvement of its services and processes as kept the company on its track of success.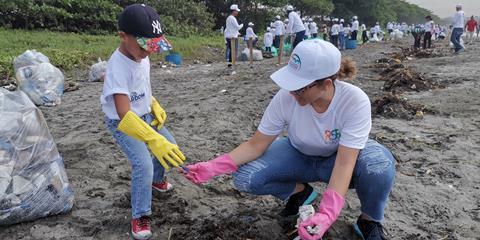 At the core of the company's accomplishments are its people and its reach in the community. "We want to motivate the further development of our teams for all of our growth," said Windeler. "In that way we endeavor to be a sustainable company. While minimising the risk to our employees, we can limit the environmental impact to ensure the quality of life of our workforce, their families and the community where we operate.
"We have various ongoing social responsibility programmes. Some of which include participating in beach clean ups to try and help reduce the plastic on our beaches. We also participate in planting endangered species of local flora. For our own operations, we installed solar power panels on our roofs so that a large percentage of the electricity we consume comes from the sun."
MARDOM also runs a volunteer programme where its employees help in the community, orphanages or schools. Windeler summarized: "Basically we have three pillars to our corporate social responsibility – education, health and environment. And we are always trying to promote those values."
On the environmental side, a shift toward electric equipment is occurring. As an asset-based company, MARDOM is keeping apace with the developments and is trialing electric yard trucks to reduce its carbon footprint. Last year, the company invested in a simulator to train its operators to minimise the use of the crane, truck or forklifts for these purposes.
Behind the scenes, another trend is coming to the fore – MARDOM's digital transformation, something that Windeler believes Covid-19 has accelerated. "Today we are much more advanced digitally. For example, we developed MARDOM Go – a track and trace platform that really helps to streamline our documents and data management," he noted.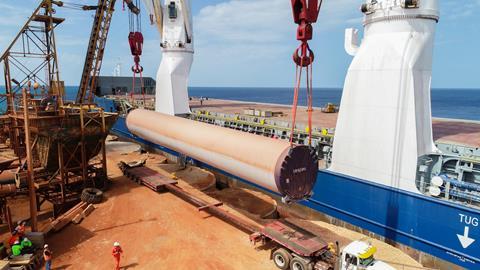 Digital solutions will play a key role in the company's future too, as one of MARDOM's goals for the years ahead is to convince its clients to outsource the more complex supply chains. "Here we can increase supply chain transparency and visibility with the technology we own and operate," explained Windeler.
As to the next 50 years, Windeler said: "We want to continue impacting our areas of operation in a positive way and continue being the leader in providing quality agency stevedoring and integrated solutions to our clients. We aim to improve how they handle their supply chains and support their supply chain management."
Marking the momentous milestone, Windeler concluded: "We are extremely proud of our exceptional team and thankful for the trust and loyalty of our clients and partners that have accompanied us throughout our 50-year journey."

MARDOM is the leading shipping agency, port stevedore and logistics company in the Dominican Republic. Experts in the handling of cargo by air, sea, or land, providing a wide range of integrated solutions.