AAL Shipping is delivering heavy lift and project cargo components from several ports in China to Brisbane, Australia, for the 181 MW Dulacca wind farm.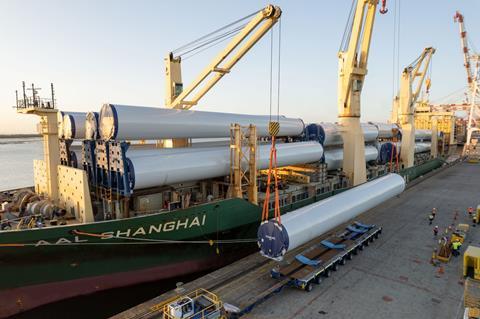 The shipments began in February and will continue until July 2022. Contracted by multiple logistics companies to manage the ocean transport, AAL will handle 43 Vestas wind turbines, transformers and electrical cables totalling nearly 375,000 freight tons of cargo.
Andrew Mangan, chartering manager, who is coordinating the sailings into Australia from the carrier's Singapore headquarters, said: "The shipments into Brisbane for Dulacca are being loaded from several Chinese ports including Tianjin, Taicang and Yangzhou and we are working with multiple logistics companies in their execution, each with their own specific timeline and cargo requirements. We therefore decided to utilise two different vessel classes on the project – our mega-size 31,000 dwt A-class and the more compact 19,000 dwt S-class – to manage both large and small shipment sizes with as much efficiency and economy of scale for our customers as possible."
Chris Yabsley, chartering manager at AAL Australia, added: "The 181 MW Dulacca wind farm is located between Dulacca and Drillham in the Western Downs region of Queensland and will be powered by 43 Vestas wind turbines of 4.2 MW rated capacity each.
"The award of this project is a welcome recognition of AAL's long-standing Asia – Australia trade lane and expertise, which has served customers with a regular scheduled service for over 26 years."