AirBridgeCargo Airlines (ABC) has transported 12 SkyCell containers from Hong Kong to Amsterdam in the Netherlands.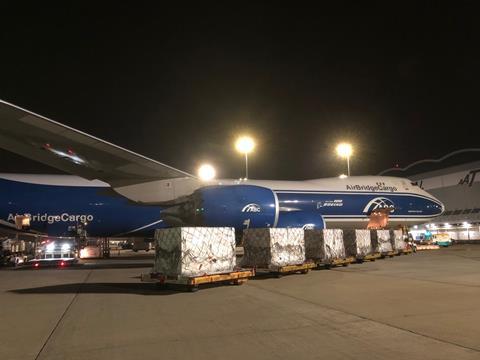 ABC oversaw the move in partnership with UPS Healthcare. The SkyCell 1500C containers are designed to transport temperature-sensitive cargo.
The containers were first shipped from Europe to Asia in a pre-conditioned mode, before being loaded with vaccines and flown back to Europe – maintaining a temperature range between 2 and 8 degrees celsius.
ABC said it is testing its capabilities for vaccine transportation by trying various loading options. In this shipment, the 10.5-tonne containers occupied six lower forward deck positions.
"Powered by a diversified fleet of freighters within the Volga-Dnepr Group, we are now analysing and mapping out all possible scenarios for vaccine transportation, even using the technical capabilities of AN-124-100 and IL-76TD-90VD [aircraft]," said Yulia Celetaria, pharmaceutical director at ABC airlines.