AirBridgeCargo Airlines (ABC) is delivering vaccine manufacturing equipment from Frankfurt in Germany to Atlanta, USA.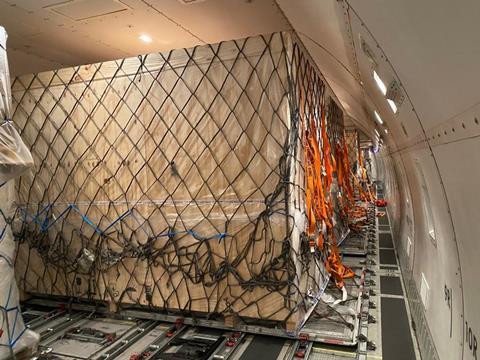 Delivery of the equipment, which will support the manufacturing of coated cyclo olefin polymer (COP) vaccine containers, began in August and will continue until the end of 2020. In total, ABC will move 840 tonnes of equipment.
In cooperation with Streck Transportges and Zahoransky, ABC is utilising its Boeing 747-8F aircraft for the deliveries.
Yulia Celetaria, global pharmaceutical director at ABC, said: "The equipment we transport will facilitate the production of more secure plastic vials made of COP, which we might be delivering later with Covid-19 vaccines inside, once the phase three trials are finalised."
ABC and other carriers in the Volga-Dnepr Group have been preparing for vaccine transportation by temperature mapping of all freighters within the group's fleet, including Boeing 747F, 737F, 777F, AN-124-100/150, and Il-76TD-90VD aircraft.