Access World's project division recently handled power generation equipment at the port of Richards Bay in South Africa.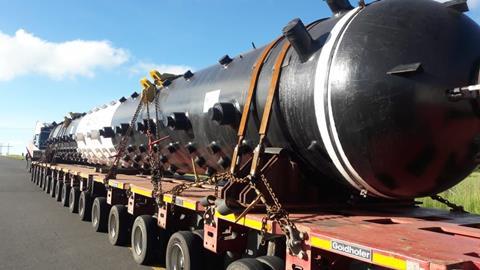 The cargoes originated from China and were destined for Hwange, Zimbabwe. Access World was appointed to oversee the vessel discharge and was tasked with arranging transit Customs clearance, a detailed route survey, and road transport to site. The scope also involved final import Customs clearance; repairs to a 10 km entry road to the project site; as well as a site inspection at the plant to ensure no obstacles hindered the final delivery.
In total, 27 extra heavy vehicles were required to transport 2,660 tons (2,413 tonnes) of equipment over 1,800 km from Richards Bay to Hwange.
The consignment included two transformers that weighed 255 tons (231.3 tonnes) and were transported on 20 axle and 16 axle Goldhofer trailers; two 201-ton (182.3-tonne) stators; a 171-ton (155.1-tonne) drum that measured 22.25 m long; and 22 loads that weighed between 39-69 tons (35-62.6 tonnes) and measured up to 4.5 m wide.
"We specifically selected the port of Richards Bay for number reasons," said Access World's Corne du Toit. "Not only is it closer to Zimbabwe than ports such as the port of Durban, but Richards Bay also has less congested traffic and much easier access onto the motorway going north for heavy lift and large oversized cargo."
He added: "It is always fascinating to watch the diverse elements of these bigger logistics projects as they unfold, with multiple hauliers sharing the loads and a number of other players involved… from port access authorities, Customs, road traffic convoy and permit planning personnel, route and load engineers, contractors performing route modifications, border agencies… with Access World at the helm of it all."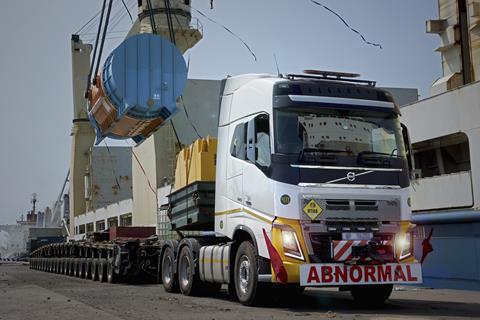 In addition to the Hwange energy project, Access World has been involved in the expansion of substations in Zambia for the state-owned power company, as well projects for the national energy regulators of Uganda and Rwanda.
Speaking with HLPFI in its March/April 2021 edition, du Toit also noted that there has been an increase in the demand for project logistics services related to wind and solar energy parks. In particular, du Toit pointed to projects in the Western Cape, South Africa; Access World recently opened an office in Cape Town to follow the progress of these projects.
Read more in HLPFI's Project Cargo Africa supplement in the March/April 2021 edition of the magazine.