Australia's Advanced Cranes and Rigging has deployed its Liebherr LTM 1450-8.1 to dismantle the Maffra Weir in Victoria.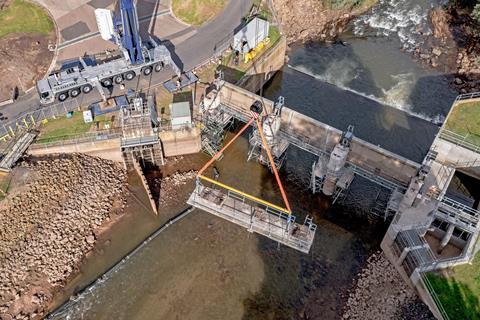 The constricted work area meant that the LTM 1450-8.1 had to be positioned so that it could complete the hoisting process over the side whilst remaining within the required working radius. The steep slope, uneven terrain and an underground water tunnel made the search for a suitable crane position even harder.
By using additional crane mats, the Advanced Cranes team managed to level the LTM 1450-8.1 and set it up with a 28 m luffing lattice jib and total ballast of 134 tonnes.
Two core holes had been drilled into the 60-year-old bridge before the crane started work. The attachment chains were threaded through these and connected using a 9 m spreader bar.
Advanced Cranes dismantled the existing gate lifting equipment for the weir and the reinforced concrete bridge. The heaviest load for the 8-axle crane was 32 tonnes plus 4 tonnes for rigging and hook at a 34-m radius and a maximum hook height of 20 m.