Ahlers has transported a complete air separation unit, consisting of several large 85-ton (77-tonne) items and more than 50 truckloads of parts, to Moglino in Russia.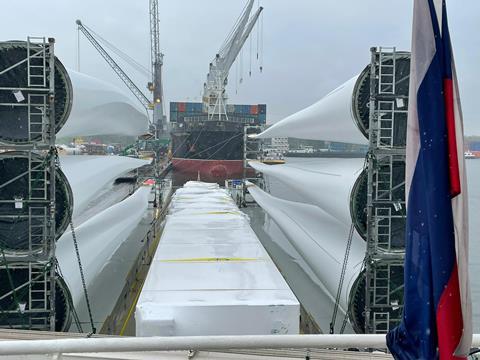 Equipment originated from Italy, Spain, Turkey and South Korea. The shipment totalled approximately 6,000 freight tons.
The largest units leaving the factory in Italy were two cold boxes, with the largest one measuring 35 m x 5.5 m x 5 m. They were moved by road to the port of Marghera and then shipped to the port of Ust-Luga.
Upon arrival at the destination port, these units were reloaded onto trucks and transported to the final jobsite.
Transporting these cargoes from the factory in Italy up to the nearest port faced a number of challenges, said Ahlers. The route had to contend with railway crossings, electrical wire lifting, and removal of street furniture – covering a distance of approximately 250 km took six days.
However, the main challenge was the transport on the Russian territory. As the port of Ust-Luga is mainly a bulk cargo port, there was a lack of suitable equipment readily available. The Ahlers team designed and certified special beams and spreaders, which made it possible to safely handle this cargo.
The main hurdle for the remaining leg of the trip of the cold boxes was several bridges that needed to be crossed en route to the final jobsite. The composition of the trailers together with the cargo was too heavy to cross these bridges. After an agreement with the relevant transport authorities, civil works were done and whenever the load was too heavy for a bridge, Ahlers installed temporary fly-over bridges. This operation was completed for three bridges in the Pskov region, which also required the mobilisation of cranes and the rerouting of traffic.
Another lot of oversized units were shipped by vessel from Masan, South Korea, via Zeebrugge, Belgium, to St. Petersburg and then on to the project site by truck.