UK-based lifting specialist Ainscough Crane Hire has helped to remove the mast of the HMS Victory, as part of essential conservation work being carried out on the ship.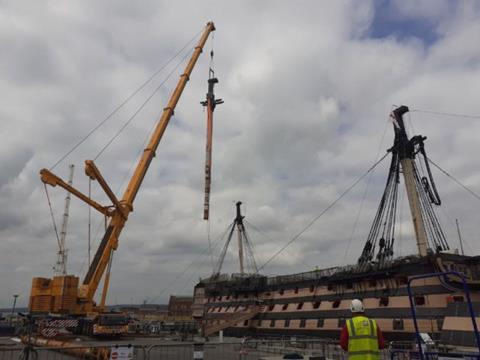 HMS Victory was built in 1758 and is best known for its role as Lord Nelson's flagship at the Battle of Trafalgar on October 21, 1805.
In 1922, HMS Victory was moved to the Portsmouth Historic Dockyard and preserved as a museum ship. It is the world's oldest naval ship still in commission, with 243 years of service as of 2021. Conservation work has been ongoing on the ship for the past decade.
In early May, Ainscough was hired by the National Museum of the Royal Navy to remove the ship's main lower mast. The project team had to carry out an ultrasonic thickness test and structural analysis before beginning work, to ensure that not even the smallest mark was made on the historic vessel.
A Liebherr LTM 1500-8.1 and an LTM Liebherr 1200-5.1 were used to lift the 32 m-long mast from its position at the anchor point in the orlop deck, at a height of 42 m, and manoeuvre it slowly through the ship's four decks working at a radius of 32 m.
Due to a lack of data on the exact weight of the mast, the team decided on a planned lift weight of 32 tonnes to ensure that the estimated weight of the mast (26 tonnes) was well covered with a 20 percent added factor of safety. 16 steel mats and 28 timber mats were used to assist with load bearing for the two cranes. The work was completed over the course of three days.
Patrick Denby, contract lift manager at Ainscough Heavy Cranes, said: "We are really pleased to have been able to support the National Museum of the Royal Navy in their conservation effort of the historic HMS Victory. The ship's original masts were made in Portsmouth and she is a source of pride for the region's local community.
"Thanks to the brilliant skills of our project team members, and their experience in working on preservation sites, the masts were successfully removed without any disruption to the ship or its surrounding environment, and its visitors can once again enjoy a wonderful day out at this iconic attraction."