Allcargo Logistics has coordinated the delivery of heavy and oversized cargoes from Mumbai and Hazira to Paradip in Odisha, including one of India's longest components.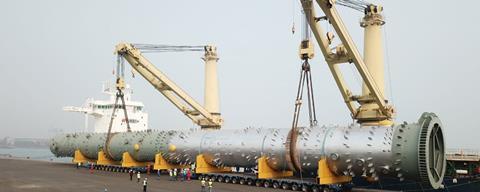 The cargoes included a wash tower, de-ethyleniser, an EO reactor from Hazira in Gujarat, and a reactor steam drum from Mumbai in Maharashtra. The longest piece of equipment measured 96 m and weighed more than 1,000 tonnes.
From both origin points, a series of multimodal transportation milestones dotted the voyage to the project site in Odisha.
The components were moved from their respective factories to a jetty and rolled on to barges that both made their way onto a vessel at Hazira port. The cargoes then arrived at Paradip International Cargo Terminal (PICT) where they were loaded onto SPMTs for road transport.
"For all of us at Allcargo, moving one of India's longest cargoes from Gujarat all the way to Odisha, is nothing short of spectacular. Our team truly stepped up its game as it coordinated movements from two origins," said Rahul Rai, business head of the project and engineering division at Allcargo Logistics.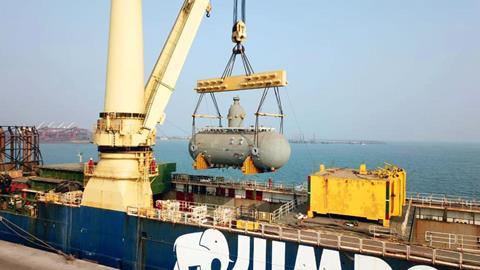 Some of the challenges in this project were varying weather conditions, overcoming the constraints of India's infrastructure, and, of course, taking into account all the Covid-19 safety precautions.
To facilitate the moves, a ro-ro ramp capable of handling the long pieces of cargo was designed for the loading operations. At the port in Paradip, a boundary wall was demolished to ensure safe passage while coming out of the port premises; a bypass was prepared in the village of Sandkhurd for safe passage of the cargo; and civil works and modifications were also carried out in Odisha for the manoeuvring of the cargo.
"Moving complex machinery and critical equipment across the length and breadth of the country is not an easy task," said Allcargo. "It requires thorough planning, detailed documentation, several permissions – all backed by a relentless commitment to safety and timely delivery.
"More often than not, these projects involve multiple associates, and a knack of working collaboratively to enhance efficiencies across every stage of the factory-to-foundation is of utmost importance."