Allelys has transported two historical boats from the Royal Navy Fleet Air Arm Museum in Yeovilton to the Explosion Museum of Naval Firepower in Gosport in the UK.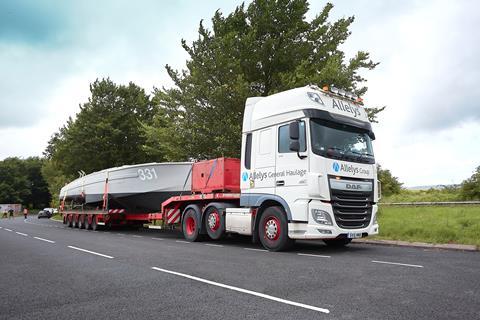 The first boat – an MTB 71 – weighed 15 tonnes and is said to be the last wartime motor torpedo boat of its kind, according to Allelys. The largest of the two boats, it measured 18.1 m x 4.6 m x 3.9 m and required a police escort for transport.
The second unit – a CMB 331 – is the last surviving Thornycroft coastal motor boat and measured 17 m x 3.5 m x 3.3 m and weighed 15 tonnes.
The boats were being stored on frames, which Allelys used to jack up the vessels using climbing jacks. They were then transported using four-axle Goldhofer extendable trailers. Once on site, the boats were jacked off the trailers and lowered onto skates, which were then used to move the units into the building to their final positions.
Allelys also transported ancillary equipment.