Allelys has offloaded 23 items at Immingham port in the UK for an energy from waste project in Shepshed, Loughborough.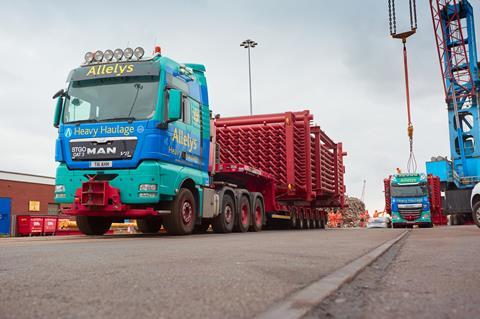 The consignment included superheaters and a drum, with units measuring up to 19.75 m long. Almost all of the cargoes measured over 4 m wide.
After unloading, the cargoes were moved into temporary storage over a period of two days using three heavy haulage trucks and modular trailers. Once the site was ready to receive the components, Allelys began transporting them to site.
Due to site constraints, the cargoes were moved in sequence with two deliveries per day. The team also had to work to specific time slots for arrival.
The majority of the units were transported using modular trailers. The largest and heaviest piece, the 80-tonne drum, required a bespoke five-axle beam trailer to be built in house.
In addition to the transport, Allelys also provided all escort services for the project.
"This was an interesting project for the team to work on due to the agility and flexibility it required," explained Jamie Woodland, assistant transport manager at Allelys.
"The vessel berthing date was unstable due to weather conditions, so it was essential to provide our customer with a flexible service to meet the project milestones. Additional equipment, including an extra truck and trailer were also required at short notice. Our extensive equipment fleet at Allelys enabled us to meet these demands to ensure the project was completed successfully."