Barrus Projects has transported 60 Vestas nacelles from the Liebherr-Nizhny Novgorod manufacturing plant to wind farms in Kalmykia and Kazachya, Russia.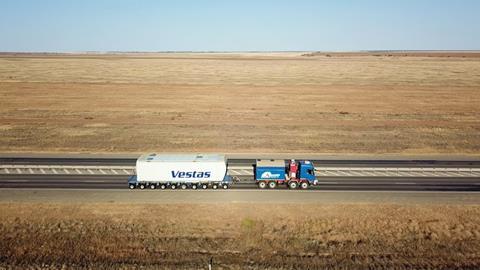 48 nacelles were delivered to the construction sites of the Salynskaya and Tselinskaya wind farms in Elista, the capital of the Republic of Kalmykia, and 12 were transported to the Kazachya wind farm in Rostov-on-Don.
All 60 units were moved 75 km from the manufacturing plant to the port Dzerzhinskkhimmash using Barrus' own trailers.
For the Salynskaya and Tselinskaya wind farms, four barges – loaded with 12 nacelles each – were utilised to move the components to Volgodonsk Atommash. From here, Barrus Projects handled the 250 km road transport using its Mercedes-Benz heavy-duty prime movers and Goldhofer axles.
The 12 Kazachya nacelles required only one barge for the delivery to the construction site in Rostov-on-Don.
Each nacelle measured 12.7 m x 4.17 m x 3.18 m.