The Spanish port of Bilbao has supported the launch of the DemoSATH floating offshore wind pilot project.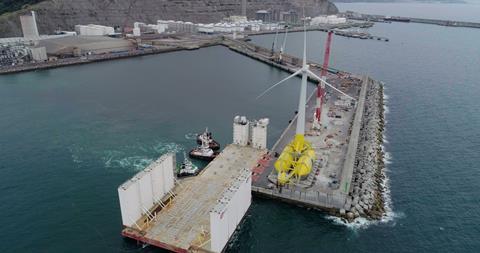 Developed by Saitec Offshore Technologies and RWE Renewables, the DemoSATH wind turbine was loaded and launched at Punta Sollana quay. The pre-stressed concrete unit, with a 2 MW turbine mounted on it, had previously been built, assembled and equipped at the quay.
To float it, the unit was loaded onto the deck of a semi-submersible barge using SPMTs. The barge was then ballasted and submerged until the DemoSATH unit was afloat, after which it was towed closer to the quay, where it is currently moored.