Boskalis has carried out a series of extensive construction operations for the Duqm Liquid Bulk Berths project in Oman.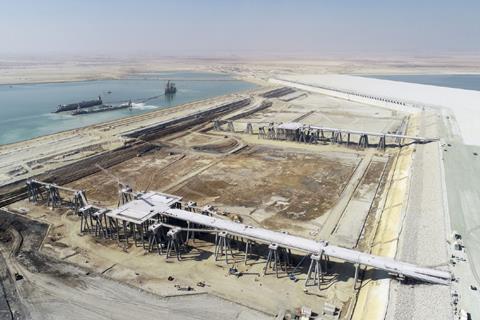 The project involved the creation of a large port area due to house a liquid bulk terminal and a refinery, amongst other things. Bart Pröpper, Boskalis project director, explained that the company's scope included the construction of a large port basin, an 18 m-deep entrance channel, a 1 km-long quay wall, and two 400 m-long jetties.
Pröpper said: "What made this work unique is that we decided, at an early stage, to start by building a temporary heavy ring dike of sand, a so-called bund. By pumping and keeping out all water we created a large, 18 m-deep polder. In this construction pit we were able to build the quay wall and two jetties."
For the construction of the ring dike, trailing suction hopper dredgers Queen of the Netherlands and Prins der Nederland were deployed. They pumped sand through a floating pipeline whilst a third hopper dredger Crestway carried out maintenance work in the existing channel and port basin.
Boskalis also utilised its 152 m-long cutter section dredger Helios for the dredging and excavation works. Helios began by dredging the entrance channel to the port, then for the second phase excavating the outer section of the port basin – removing approximately 20 million cu m of rock and clay-like soil.
"By the time the excavation work was finished, 9.3 million cu m of soil was removed. It was a colossal project in every respect," said Pröpper.
He also explained that Boskalis subsidiary Cofra brought in heavy plant machinery to compact the land in reclaimed areas: "In the deeper sections of the landfill area we had to use the vibro flotation instead of the dynamic compaction method."
In partnership with Six Construct, Boskalis helped construct the enormous quay wall. More than 5,000 large concrete blocks were produced in the specifically prepared casting and laydown area onsite. Meanwhile, 330 large steel piles were installed in the polder for the construction of the two 400 m-long jetties.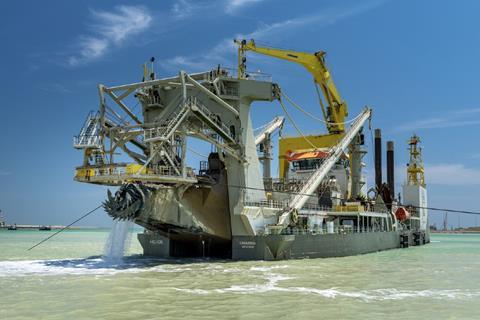 Boskalis said that over the duration of the project, around 1,500 people from 25 different countries were working on the operations every day. Pröpper explained that in order to train inexperienced local drivers and operators, a simulator was installed, and local trainers and interpreters were called in.
Speaking of how Boskalis ensured a safe working environment, Pröpper said: "Working in such a huge building pit surrounded by water created potential risks for our staff and project, and involved all sorts of safety considerations. We had a range of monitoring systems in place for the bund to ensure that it wouldn't slop, leak, or break unnoticed… At the end of the project we celebrated the fantastic landmark achievement of more than six and a half million man-hours without a single lost-time incident."