Crane service provider Calabrese Autogru deployed a Demag AC 160-5 all-terrain crane to lift a 7.2-tonne heat exchanger in the city of Turin, Italy.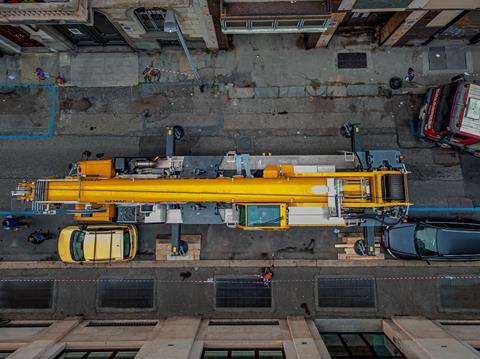 Alessandro Calabrese, managing director at Calabrese, said the AC 160-5 was chosen due to the restricted space at the site.
Parked vehicles along the access road reduced the width of the road to less than 3 m. According to Demag, with a width of only 2.75 m, all it took was a bit of skill from the crane operator to manoeuvre the AC 160-5 in between the parked vehicles.
Once in position, the all-terrain crane lifted the 7.2-tonne heat exchanger with the telescopic boom fully extended, at a height of 35 m, before setting it down at its intended location.
Calabrese said that the hook block and slinging gear added 1 tonne to the weight of the load, which, given the narrow street, made the operation challenging.
However, Calabrese said that the IC-1 Plus crane control system, which precisely determines the maximum possible load, enabled the lift to go ahead.