C.H. Robinson has delivered 4,667 cu m of cargo, totalling 1,089 tonnes, from Malaysia to Mexico.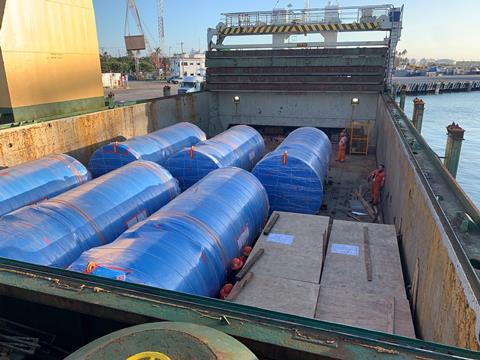 The largest components measured 36.7 m x 4.55 m x 4.78 m and weighed 87.1 tonnes each. Upon arrival in Mexico, the chartered vessel had to wait to berth due to congestion.
C.H. Robinson said: "Upon berthing, Customs formalities still had to be completed so it would be four days before the vessel could start discharging. To avoid additional delays, C.H. Robinson worked in conjunction with its local contacts and received approval from port authorities to start unloading before clearing Customs as long as no cargo would leave the port.
"Having local experts onsite, C.H. Robinson was able to work as an extension of their client's team by overseeing the operations and personally dealing with any issues that may have arisen to avoid several days of detention."
The shipment – including 28 tanks along with 19 loose small packages – was safely unloaded and moved to holding area, where it waited for clearance when the Customs office reopened.
C.H. Robinson is a member of the Project Cargo Network (PCN).