Bolloré Logistics has transported the Charon wheel from the Burning Man site in the USA to Nantes for the sixth annual Nantes Maker Campus.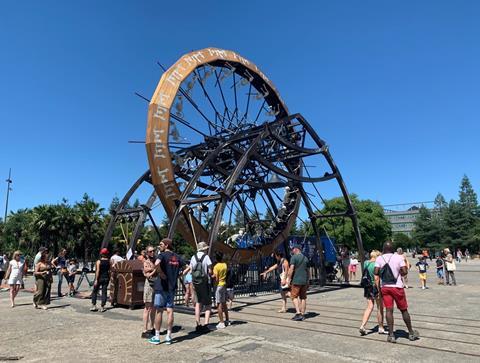 Les Machines de l'ile contracted Bolloré to deliver the artwork from the festival site to France – a particularly large-scale operation given its location in the Black Rock Desert in Nevada, which is fairly remote and hard to access.
The wheel arrived by ship at the port of Oakland and then left for the client's final site in the heart of the city of Nantes, at the Parc des Chantiers. In total, the transportation of this gigantic work of art took 50 days, covering a distance of more than 13,000 km.
"This operation was a complete success thanks to our teams' perfect coordination. It demonstrates our expertise in the field of transporting exceptional loads. The wheel is an impressive 12 m high. We had to take into account the unique and very fragile nature of the structure, as well as port and maritime congestion, which considerably lengthens delivery times," said Yorick Croiset, regional sales director, Bolloré Logistics West.
The Charon wheel was created by American artist Peter Hudson. It represents a spinning wheel carrying replicas of human skeletons. To function, the wheel must be propelled by 12 people working in unison. The artwork will continue its journey in 2022 and 2023, escorted by Bolloré Logistics, to London, Antwerp, Clisson and Paris.