UK-based heavy haulage expert Collett & Sons has completed the delivery of 12 Nordex N133 wind turbines from Glasgow to the Cumberhead wind farm in Scotland.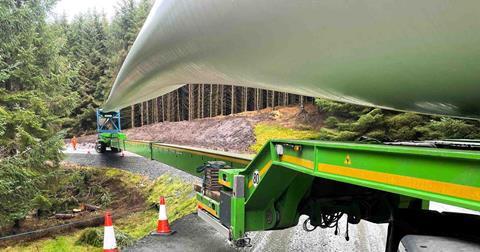 Overall, Collett transported 110 components to the site, including 12 nacelles, hubs and drive trains; 36 blades; and 38 tower sections – three for each of the 10 turbines that had an 83 m hub height, and four for the two 110 m-tall turbines.
The equipment was discharged from six separate vessels at King George V Dock in Glasgow to a precise laydown plan, ahead of transport to the wind farm.
To transport the components, Collett utilised six tractor units, three Nooteboom extendable super wing carriers, three clamp trailers, three step-frames and six escort vehicles.
The initial stage of the journey was relatively straightforward, said Collett, but a challenge arose when the cargoes had to be transported through Cumberhead forest. The longest of the cargoes, the 65 m-long blades, had an overall loaded length of 68.7 m with a 10 m overhang, and required a full test drive of the route before operations could begin.
For safe passage, Collett had to make modifications along the route which included widening the road, trimming back foliage and trees, and removing banking sections.
Over a period of four months, Collett executed 37 abnormal load convoys.