UK-based heavy haulage expert Collett & Sons has delivered two 215-tonne super grid transformers from General Electric's (GE) engineering facility in Stafford to a substation extension site in Kintore, Scotland.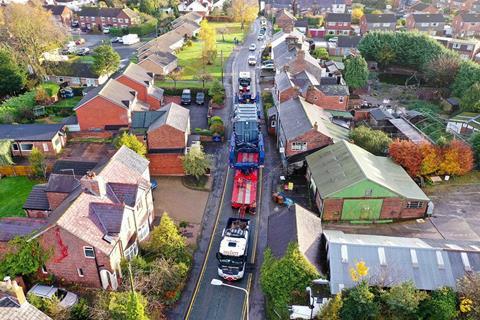 The units measured 2 m high, 8 m long and 4 m wide.
Delivered on two separate occasions, Collett utilised its 250-tonne capacity Goldhofer girder bridge. Once loaded, the transformer and girder bridge combination measured 65.8 m long.
Prior to the move, Collett undertook route access surveys, visual route inspections and swept path analysis reports. For safe passage, Collett said it had to make several route modifications and emplace traffic management procedures, which included handling the removal of street furniture, tree trimming, parking restrictions and setting up designated hold points to allow the continual flow of traffic.
The cargoes travelled 112 km over two days from the Stafford facility via Stoke-on-Trent and eventually arrived at Ellesmere port.
At the port, a Leibherr LG1550 mobile crane lifted the cargo from the girder bridge trailer onto a coaster vessel for onward transport to the port of Aberdeen, arriving three days later.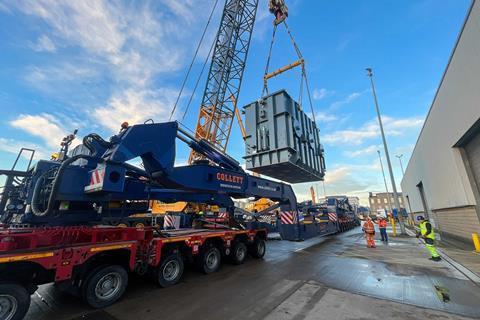 The Collett team then dismantled the girder bridge trailer to transport it by road to Aberdeen, where it met the incoming vessel with the transformer.
A 600-tonne strut crane then unloaded the cargo directly onto the girder bridge trailer for the final leg of the journey: a 22 km route to the site, along which a post box had to be relocated and site access roads had to be widened.
Once on site, the transformer was offloaded and manoeuvred into its final position using a hydraulic jacking and skidding system.
The team then returned to the Stafford facility to repeat the operation for the second transformer.
Click here to see a video of the Collett team moving the transformers.