Spetstyazhavtotrans has used Cometto SPMTs to transport a 70 m-long column in Russia.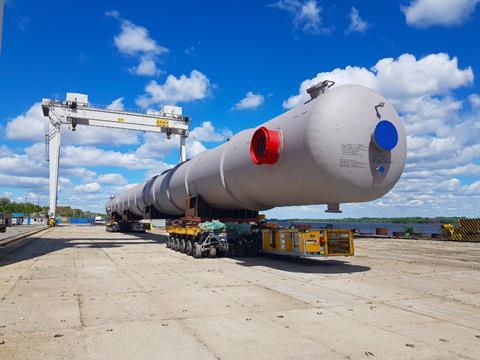 The Russia-based, company which specialises in the shipment of oversized cargo, delivered the column from equipment manufacturer Volgogradneftemash's factory in Volgograd to the company's dock 1 km away.
The unit weighed 300 tonnes and had a diameter of almost 5 m.
Dmitry Zhukov, head of the transportation project at Spetstyazhavtotrans, said: "The considerable length of the load and the difficult conditions on the route – curves up to 90 degrees, longitudinal slopes up to 12 percent and lateral slopes up to 5 percent – called for some extensive planning."
To move the column, Spetstyazhavtotrans utilised two turntables and EVO2-type SPMTs from Cometto, with corresponding power pack units.