deugro has delivered steel components from Cairo, Egypt, to Changshu, China, onboard three Boeing 747-8F charter flights.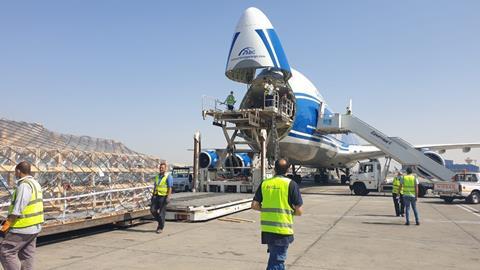 deugro said the cargoes were urgently needed to maintain the manufacturing schedule of air cooler modules at a liquefied natural gas (LNG) plant in China. deugro's air chartering division in Frankfurt, deugro China, and deugro Hanau collaborated for the time-sensitive delivery.
131 bundles of steel structures, which included steel beams and angles of different sizes, were repacked into 116 packages. The shipment totalled 810 cu m and tipped the scales at 209 tonnes.
deugro said that to avoid lateral or vertical shifting during the journey, the bundles of different shapes and sizes were secured inside bespoke timber packaging. "All cargo packages also had to be reinforced by wooden stiffeners and spacers on both ends of the bundles to prevent longitudinal sliding," deugro added.
deugro also detailed how the urgency of the shipment presented challenges: "All transport arrangements had to be made while the cargo was still in production, meaning the final dimensions and weights could not be confirmed until production was finished."
In Egypt, deugro worked with its Egyptian partner for the packing operations. To keep to the timeline, the repacking work was performed around the clock; within two weeks the structures had been repacked for safe air transport, said deugro.
The company arranged for three charter flights using a Boeing 747-8F. The nose-loading capabilities made the aircraft ideally suited for transporting the long cargoes.
Over the course of five days, the steel structures were flown from Cairo International Airport in Egypt to Zhengzhou Xinzheng International Airport in China, with a stop in Russia. Upon arrival in China, deugro deployed 14 trailers to deliver the cargoes to the project site.