deugro has delivered approximately 80,000 freight tons of cargo from various origins in Asia, Europe and the USA to a gas turbine power plant project in Jakarta, Indonesia.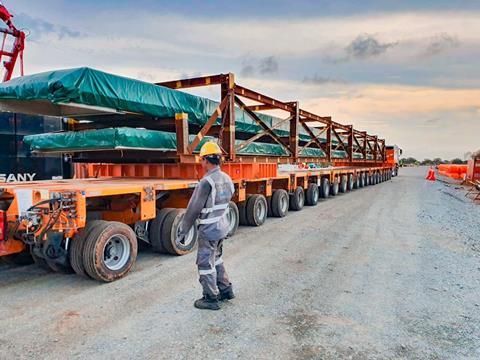 deugro was contracted by General Electric (GE) to transport the cargoes in cooperation with dteq, a company of the group focused on transport engineering services.
The equipment included two 438-tonne gas turbine units, two 460-tonne generator stator units and 52 heat recovery steam generators (HRSGs), which measured up to 30 m in length and weighed up to 240 tonnes.
Based on a route survey, deugro's team in Jakarta calculated the maximum transport dimensions and weight for the road freight and identified the units that could not be delivered by road. These units needed to be transported by barge.
"The oversized and heavy lift cargo was discharged directly from the vessel onto the barges at the port of Tanjung Priok. This led to massive cost and time savings, as well as risk mitigation, since double-handling, storage in the port and re-loading onto barges were avoided," said Hagen Hennig, regional head of transport engineering Asia Pacific (APAC), dteq Germany.
deugro said that it was particularly challenging to unload the 438-tonne gas turbine from the vessel directly onto the barge at the port of Tanjung Priok. The unit then had to be transported 100 nautical miles to the job site's jetty in West Cilamaya and then on to the construction site.
For the roll-off operation at the job site jetty, the barge was moored with four mooring lines and two lines as a backup. The ramp was placed on sandbags, distributing the loads evenly to the ground. The gas turbine was rolled off the barge using hydraulic axle lines provided by dhaulage, deugro group's equipment owner.
Supported by escorts, flagmen, spotters, and traffic management as per site requirements, the gas turbine then traversed 7 km on the purpose-built road to the construction site.
As the road from the jetty to the job site had a ground-bearing capacity of 4.8 tonnes, deugro explained that dteq's transport engineers developed a solution that remained below this figure, while keeping the trailer configuration short enough to be able to navigate the purpose-built roadway.
deugro added that it also had to contend with various seasons and changing weather conditions during the transport.