DHL Industrial Projects is coordinating the delivery of 676 passenger coaches from Hungary to Egypt; the first batch arrived in Alexandria in February 2021.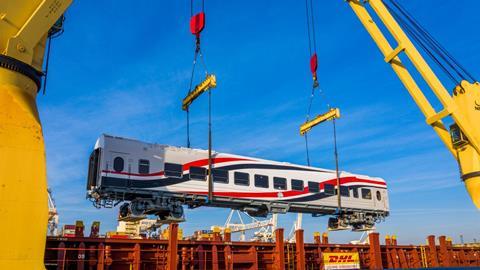 The coaches measure 24.5 m long and 4.5 m high, and weigh 48 tons (43.5 tonnes) each. DHL said the size of the coaches makes the project particularly challenging.
The company is overseeing the deliveries on behalf of the Hungarian manufacturer Dunakeszi Járműjavító (DJJ) – owned by TMH International and Magyar Vagon – and are part of an order of 1,300 coaches for the Egyptian National Railway.
DHL will manage the end-to-end transport of the coaches over a period of 32 months. The coaches will first travel via rail from the production plant in Dunakeszi, Hungary, to the port of Koper in Slovenia. From there, DHL will organise the sea transport of the cargoes to the port of Alexandria, Egypt, in cooperation with its charter carriers.
Ryan Foley, ceo at DHL Industrial Projects, said: "I am incredibly proud of the team in helping us to become a first-choice provider of the delivery of these coaches in a country with longstanding heritage in the field of rolling stock."