dship Carriers has transported a 750-tonne pile installation frame from Rotterdam, the Netherlands, to Anping, Taiwan.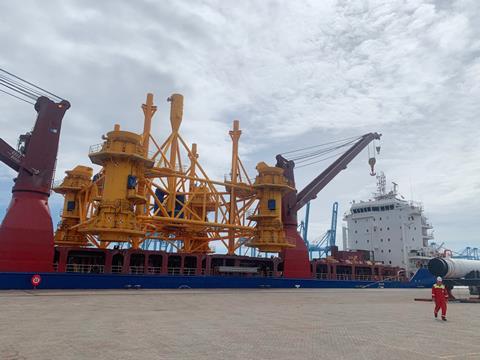 On behalf of Seaway 7, dship moved the component, as well as other offshore and seabed equipment, for a wind farm project. The company utilised its recently acquired heavy lift vessel Bruce for the work.
The offshore renewables installation units, with a total volume of 36,964 cu m and an overall weight of 3,328 tonnes, required extensive engineering work. dship called upon expert teams of naval architects and engineers with shipbuilding and offshore installation background for the preparatory works, including structural and hydrostatic analysis as well as ship motion and hydrodynamic analysis.
"During the structural analysis, it was observed that the heavy lift platforms would need to be reinforced to withstand the potential acting forces during ocean transport," said Hauke Bindemann, supercargo/port captain at dship Carriers.
"The development of the overall stowing and seafastening concept took several months and was conducted with the support of LOC Germany," Bindemann added.
After arrival of the frame in Anping, the pin pile installation was executed by Seaway 7's vessel Seaway Yudin.