Emirates SkyCargo has transported the Brazilian satellite Amazonia-1 from São José dos Campos to Chennai, India, onboard a Boeing 777F.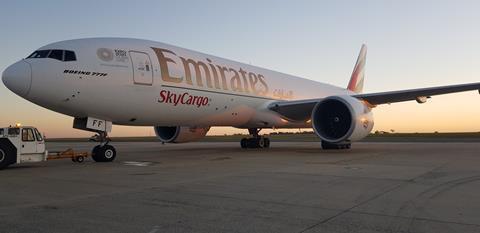 The satellite, which was developed by Brazil's National Institute for Space Research (INPE), was dismantled into multiple components to facilitate loading and unloading operations.
According to Emirates SkyCargo, the components were then packed inside large containers to avoid any damage during the transport. The total cargo weighed approximately 22 tonnes.
The carrier said it had to apply for special permission to operate the Boeing 777F from São José dos Campos airport in Brazil. In addition, Emirates worked with INPE, the airport and local partners to conduct simulation sessions ahead of the flight to ensure the sensitive cargo was transported safely.
Emirates said that four members from the INPE team also travelled with the satellite to monitor the status of the cargo during the flight, which flew first to Dubai in the UAE before travelling onwards to Chennai.
The satellite is expected to be sent to space in February 2021 from the Satish Dhawan Space Centre in India, and will be used to help monitor the ecosystem of the Amazon rainforest.