Express Global Logistics (EXG) has coordinated the delivery of heavy and oversized cargoes from Tarapur to Barmer, India.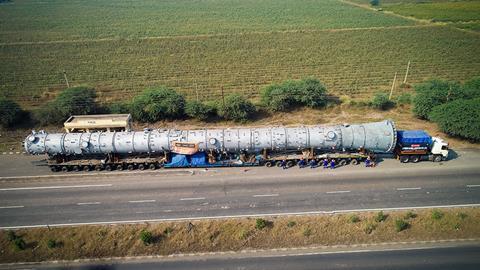 The cargoes included an absorber column that measured 32.3 m x 3.4 m x 3.7 m and weighed 75 tonnes; a stripper column that measured 42.05 m x 5 m x 5.7 m and weighed 220 tonnes; a 129-tonne naphtha stabiliser column with dimensions of 50.7 m x 4.8 m x 5.4 m; and a swing naphtha stripper that measured 36.5 m x 6.2 m x 6.7 m and tipped the scales at 92 tonnes.
EXG's project scope included transportation, railway shutdowns, and the dismantling of a toll plaza. Non-seasonal heavy rains caused a number of issues for the EXG team; several areas along the route required civil work to address potholes and uneven roads.
EXG is a member of the Worldwide Project Consortium (WWPC) in India.