A 105-ton (95.3-tonne), 8.2 m-wide stator has departed Voith Hydro's Heidenheim, Germany, facility as part of the expansion of the Töging am Inn power station.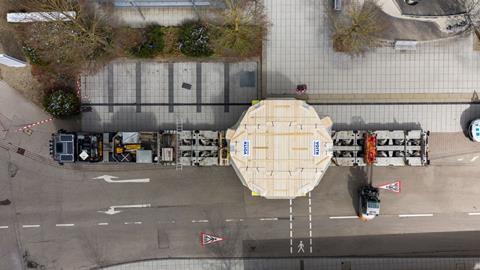 Voith Hydro said that the stator is the widest component ever to leave the Heidenheim premises. The stator is part of the first of three 55 MVA generators that Voith is supplying for the expansion project.
TSB Transport-Service-Beitinger handled the move. The unit protruded the 3 m-wide heavy-duty truck by 2.5 m on each side, which meant that traffic lights, traffic signs, and signal systems in a tunnel had to be dismantled along the planned route.
The 250 km journey had to be completed within one night because there was no suitable parking space along the way, added Voith Hydro.
"The successful implementation of such a transport only works with detailed preparation and close coordination with the freight company and local authorities. Because in the end, a few centimetres are decisive," said Stephan Pfeuffer, head of shipping at Voith Hydro Heidenheim.
The last obstacle – the steep descent to the powerhouse – was overcome via a specially constructed access road.