Gosselin Moving and Heavy worked together to move a 3 m-long statue from Belgium to Venice, Italy.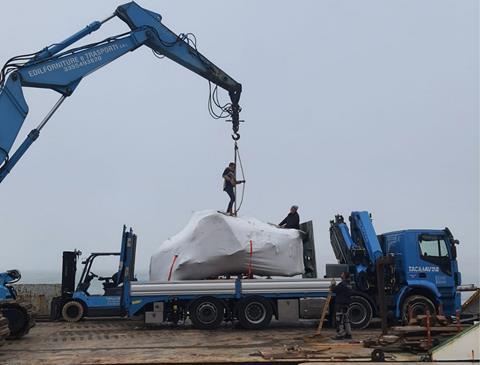 Belgian artist Arne Quinze created a sculpture for the Venice Biennale, an international art and cultural exhibition held every two years. Barbara Savelli, branch manager of Gosselin Italy, only had one week to prepare the move. She said: The hardest part was obtaining all the right permits and authorisation from the police to move the sculpture through the city."
The transport required the temporary closure of local businesses along the route. Gosselin obtained a permit and police escort until 11 am. Savelli explained: "We started at 4 am, first loading the statue from the Belgian truck onto a pontoon and later transporting it through the city using two cranes. There were some additional delays due to very foggy conditions in the morning, but we finished the job around 10:30 am.
"We could only drive on the right side of the street and ensuring additional protection for the ancient pavement. We built a road in front of the truck but we naturally don't have 700 m worth of portable pavement at our disposal. So, we ended up having to disassemble it behind the truck and then reassemble it in front of it. This was a non-stop process, and caused the whole move to progress very slowly."