Hareket has provided dismantling, crane and transportation services for two power plants in Uzbekistan.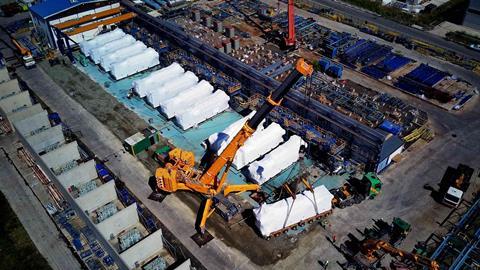 For one of the projects – a 240 MW natural gas combined-cycle power plant in Tashkent – Hareket handled a number of heavy and over-dimensional cargoes. The heaviest unit tipped the scales at 172 tons (156 tonnes).
The components were moved approximately 4,000 km from Samsun port in Turkey and discharged at the Bautino heavy cargo terminal in Kazakhstan, where it recently established operations. Smaller cargoes were delivered to the plant by road.
Hareket is also handling the transport of equipment from the 270 MW natural gas combined-cycle power plant in Aliağa, Turkey, to Bukhara, Uzbekistan.
This project is ongoing and involves the movement of 30 pieces of equipment with weights between 116-180 tons (105-163.3 tonnes). These components are also being shipped to Hareket's Bautino heavy cargo terminal. Smaller cargoes are being delivered to the project site in Bukhara by road.
Abdullah Altunkum, board member of Hareket, said: "Natural gas combined-cycle power plants, which have not been operating in our country in recent years, but are in operation, are in demand especially from the Turkic Republics. The export of these power plants belonging to Turkish companies makes a very serious contribution to the country's economy. However, moving a power plant to another country is a very difficult process. At Hareket, we play an important role in power plant exports by successfully performing dismantling, crane and transportation services with our expert staff and powerful equipment."