Integrated Logistics utilised its 1,600-tonne capacity CC 8800-1 to lift 240-tonne spudcans and 246-tonne jack-up legs for the Rumailah Lift Boat at the Ras Laffan shipyard in Qatar for N-KOM.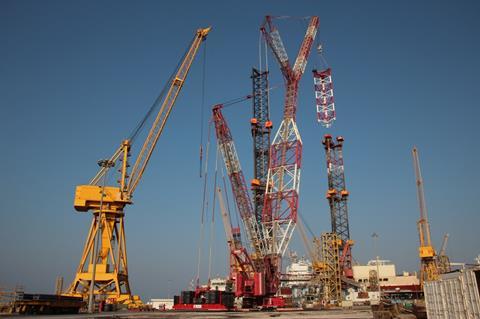 The spudcans had a diameter of 14.7 m and height of 7.4 m, while the jack-up legs had a length of 40 m and a width of 8.2 m. The loads had to be moved at a radius of 67 m, requiring the CC 8800-1 to be fitted with the boom booster kit.
The crane had to be mobilised to the site from the company's branch in Kuwait using a barge. Once at the shipyard, it was set up with the boom booster configuration with an 82 m main boom and a 72 m extension.
Integrated Logistics general manager Manoj Kumar said: "Whenever we have to move extreme loads at a large height and a wide radius, that's when our CC 8800-1 comes in… when equipped with the boom booster, the crane can take care of lifts that would normally require two cranes."
He added: "Being able to take care of the job with the CC 8800-1 alone enabled us to do the project much faster and much more cost-effectively than would have been the case with two cranes."