The UK government's goal of reaching 50 GW of installed offshore wind energy capacity by 2030 were dealt a blow today. The latest auction of clean power contracts failed to secure any interest from offshore developers.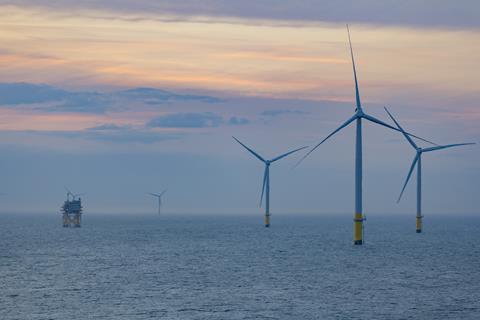 The results of the fifth round of contracts for difference (CfD) round show that 3.7 GW of new renewable capacity was successful overall (1.6 GW solar, 1,5 GW onshore wind, 53 MW tidal), the lowest level since 2017 and far below the 10.8 GW awarded in last year's auction. The new projects will come online from 2025 onwards.
Trade association RenewableUK said that developers had warned that prices needed to rise to reflect the impacts of the invasion of Ukraine, inflation in key commodities like steel, and increased financing costs from spiralling interest rates. However, offshore wind developers saw the maximum price they could bid in this year's auction cut by GBP2 (USD2.5) to GBP44 (USD54.9) per MWh.
RenewableUK ceo Dan McGrail said: "Industry has warned that rising costs should have been properly priced into this auction. If the UK isn't offering prices that allow investors to make a return, they will simply invest elsewhere."
RenewableUK is calling for action from government to fix the investment framework through a package of reforms to the CfD, support for supply chains and fiscal measures to attract clean energy investment into the UK in the face of global competition.
McGrail continued: "These results should set alarm bells ringing in government, as the UK's energy security and net-zero goals can only be met if we have offshore wind as the backbone of our future energy system. We need the government to show that the UK is open for business.
"The failure to secure any new offshore wind is a major blow for consumers that could, and should, have been averted. Building wind farms means we stabilise the cost of energy for the long-term and reduce our dependency on fossil fuels, prices of which can be manipulated by dictators and despots. It's not too late to get back on track, but without urgent changes, we risk pricing ourselves out of the global race for clean energy investment."
In July, Swedish developer Vattenfall said that it suspended work on its 1.4 GW Norfolk Boreas site in the UK. The developer reported a 40 percent rise in the costs at the project. Global gas prices, which surged in the wake of Russia's invasion of Ukraine, have filtered down into the project. Vattenfall won the tender to build the project at a price of GBP37.35 (USD48) per MWh of power generated.