Project forwarder JSL Global (JSL) has coordinated the relocation of a concrete segment factory from its original site in Qatar, via the port of Hamad, to Constanța (Romania) and onward to its final destination.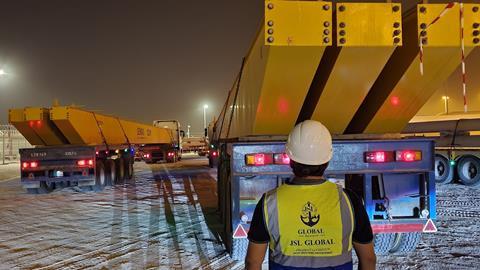 The consignment comprised of gantry cranes, girders, steam boiler, buckets, panels, and air compressors. The largest items were 14 crane girders and beams, each measuring 28-32 m long.
For this shipment cargoes were loaded onto 98 open top/flatrack containers. 1,100 cu m of breakbulk was shipped aboard the multipurpose vessel Rudolf as a part charter.
This was complete industrial plant relocation and JSL provided feasibility study to client almost eight months prior to actual delivery date. Export from Qatar proved challenging due to the fact that the plant had multiple owners; authenticating the ownership and generating export documents was a difficult process.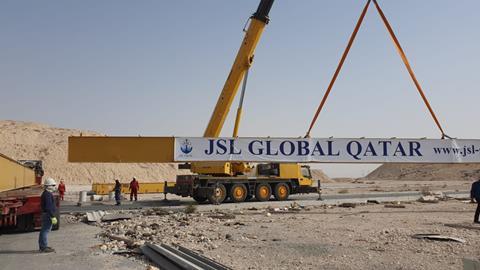 Freight rates for special equipment like open top containers and flat rack were also quite high. JSL Global said it managed to negotiate rates with Hapag Lloyd and Maersk and moved more than 47 pieces of special equipment ex Qatar to Romania.
Multipurpose shipping rates, which had risen significantly due to the outbreak of war in Ukraine, crept too high for the client to afford. JSL said that it advised the client to wait for the right vessel operator and right timing. JSL fixed with a European based vessel owner and made this possible with committed budgeted figures.
Police escort and route survey were key factors to consider during this project, as it included pieces measuring up to 32 m long.
After loading the cargo at Qatar site, JSL moved the shipment on road with a 112 m-long convoy and police escort vehicles. JSL Project team and Q-Terminal worked for three days continuously and supervised safe offloading of cargo inside Hamad Port, and loading aboard the breakbulk vessel.
The JSL Project team visited Constanta before the vessel reached port. Because of heavy shipping traffic at the Romanian port due to the ongoing Russia-Ukraine war, JSL had to take obtain approval from concerned authorities for priority berthing.
After import Customs formalities were finalised, the complete shipment was delivered to the client within just one week to avoid any port storage charges.
JSL Global is a member of the Worldwide Project Consortium (WWPC).