The Jumbo-SAL-Alliance is on hand to move 75 Siemens Gamesa 8 MW turbines and 225 blades from Cuxhaven (Germany), Esbjerg and Aalborg (Denmark) to Taichung (Taiwan).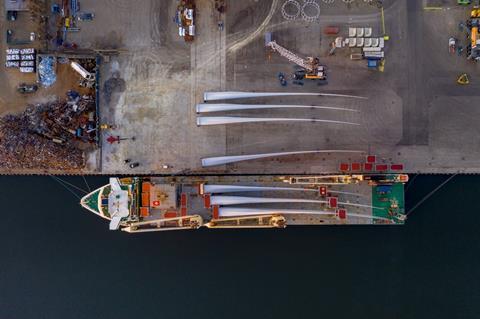 Type 176, Type 171, Type 116 and Type 161B vessels are being used for this series of shipments destined for the Formosa, Yunlin and Greater Changhua project sites. The Jumbo-SAL-Alliance engineering team developed a stacking frame system creating capacity for 15 blades in four stacks on deck.
Handling the blades, measuring 82.07 m × 7.3m × 6.08 m and weighing 44.3 tonnes each, is a complex task, operating at heights of up to 24 m above deck. All crew members took part in special working at heights training to ensure safety and efficiency.
The first blades and nacelles have already arrived in Taiwan and are waiting to be commissioned offshore. The shipments will likely last until mid-2022.