Futuroscope Poitiers called on Enerpac cube jacks to lift more than 100 newly assembled visitor lodges onto special trailers for transport to the theme park.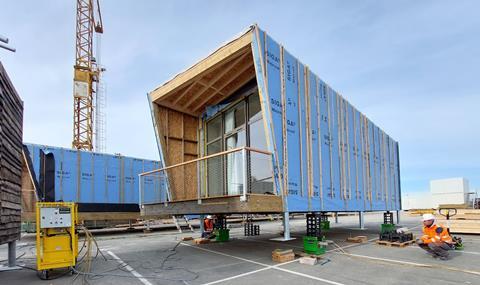 Heavy lift transport and logistics company Bovis was tasked with lifting the 12-tonne, 10 m-long huts using the cube jacks. This allowed the lodge assembly line to continue uninterrupted.
With over 50 million visitors since its opening, Futuroscope is one of the most popular theme parks in France. Each lodge is assembled next to the park, resting on integrated legs 800 mm above the ground. Bovis had to find a safe method of lifting the huts to the required height of 1,700 mm, to allow specialised trailers to be positioned underneath.
Four Enerpac SCJ-50 cubic cylinders and a split flow pump were used to lift each lodge to the correct height. The entire operation was completed over several weeks, with four huts being lifted onto trailers every day.
Jérôme Lebrequier, industrial project manager for Bovis, said: "The Enerpac cubic jacks proved to be very efficient. They took up very little space on the Ecolodgee production line and only required two engineers to operate, making the whole project very cost effective. Using the cube jacks has enabled us to eliminate the need for a second crane and also to make our work safer."