Mammoet has completed the load-out of a 4,000-tonne topside at the Garagol Deniz West field, located off Turkmenistan in the Caspian Sea.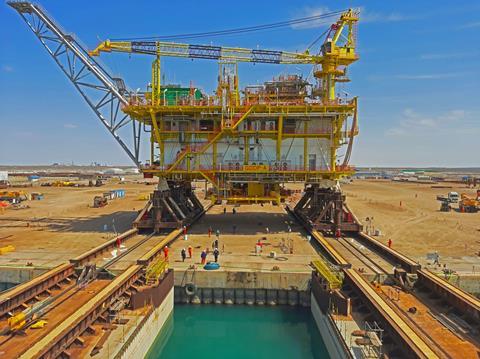 Mammoet, having previously supported the engineering and construction company ILK Insaat with the load-out of the jacket for the Garagol Deniz drilling platform A (GDDP-A), was tasked with the load-out of the platform's topside as well.
The load-out operation was split into three phases: the initial breakout of the platform; the movement via skid tracks onshore; and the actual load-out from land to barge.
Mammoet utilised 24 600-tonne capacity loadcells, two high-capacity hydraulic breakout jacks, and four 600-tonne capacity strand jacks.
The topside had been in situ for some time. Mammoet explained this meant there were concerns about the high level of friction that could possibly occur during breakout. So, the heavy lift specialist designed a solution using the high-capacity hydraulic breakout jacks in combination with strand jacks.
Although the friction was still high, the method used meant the structure could be precisely realigned throughout the operation, Mammoet said.
Mammoet worked with the client to grease the skid tracks before pushing the topside from its initial position using breakout jacks. Strand jacks were then used to skid the topside along the skid tracks and it was loaded-out onto the barge, ready to be installed offshore in the Garagol Deniz West field.
The GDDP-A is due to come into operation during the second half of 2021.