Mammoet has loaded out a 3,200-tonne jacket foundation and accompanying piles onto the heavy transport vessel Hua Xing Long at Eversendai's offshore fabrication yard, in Ras al Khaimah in the UAE.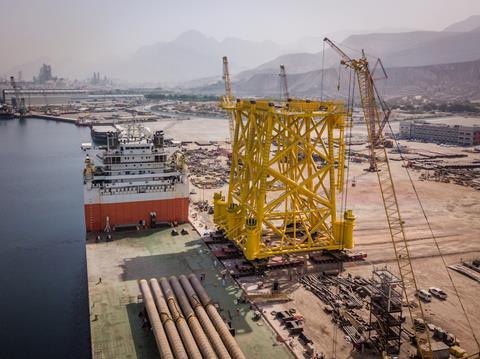 On behalf of Eversendai, Mammoet oversaw the weighing, land transport, and load-out of the jacket and pile sections, which are destined for the TenneT Hollandse Kust offshore wind farm, located off the coast of the Netherlands.
The six-legged jacket structure, measuring 40 m x 47 m x 48 m, was transported from the fabrication yard to the quayside. Mammoet used 128 axle lines of SPMTs and six power pack units (PPU) to load the jacket onto Hua Xing Long, with United Heavy Transport (UHT) acting as agent on behalf of GS Pango.
Additionally, three 220-tonne piles, measuring 75 m long, as well as three 184-tonne piles measuring 65 m long were loaded onto the deck of the vessel for onward delivery to the North Sea.
According to UHT, which is working in close cooperation with its partners GS Pango and ship owner Guangzhou Salvage, the vessel will now make its way to meet Heerema Marine Contractors's semi-submersible crane vessel Sleipnir for the next stage of the project.