Mammoet transported a reactor head from a port in Karlsruhe, Germany to the Mineraloelraffinerie Oberrhein (MiRo) refinery site, as part of a modernisation project.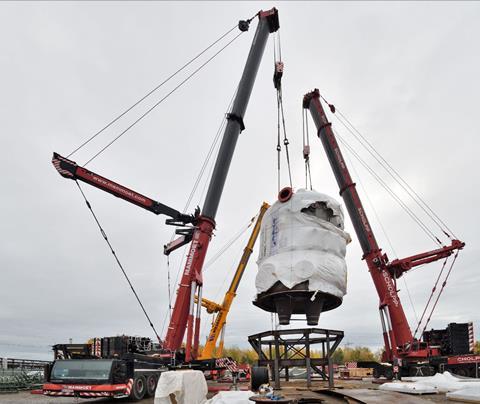 The reactor head measured 17 m-long and 9 m in diameter and tipped the scaled at 230 tonnes. Mammoet's engineering team designed and fabricated specialised transport saddles prior to the operation. This allowed the cargo to pass through a narrow section of the route, and to ensure the load could be set down and picked up again when the transport configuration needed to be extended before entering the refinery.
The oversized component arrived at Karlsruhe in October 2020. From there, Mammoet carried out a ro-ro unloading operation using a 2x10 axle line SPMT combination.
"As a result of delays in shipping, the SPMT phase had to be postponed several times. However, since transport via public roads was only possible on certain days and an important access road to the refinery could only be closed on weekends, we coordinated the deployment so that the time slot could be kept exactly on a weekend. This reduced the impact on plant traffic significantly," explained Sören Müller, project manager at Mammoet.
On leaving the port, Mammoet said the first challenge was a narrow tide gate. However, the custom-engineered transport saddles allowed safe passage.
Before entering the refinery, the transport configuration had to be extended to meet the maximum permissible axle loads of the bridges. To achieve this, the load was set down hydraulically and the SPMT configuration was extended to 2x24 axle lines.
Once the reactor reached its pre-assembly position, it was rotated 90 degrees in a three-crane lift and set down on the pre-assembly frame in an upright position.
In the second phase of this project, Mammoet will use a crawler crane to replace the old reactor head with the new one.