Mammoet has transported and installed four bridge sections in Irving, USA on behalf of the Texas Department of Transportation and construction company Webber.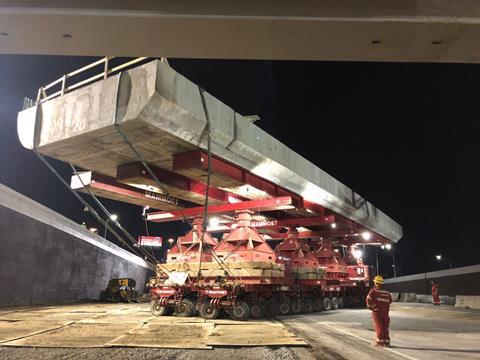 The pre-cast box-girder bridge units weighed approximately 720 tonnes each.
Mammoet said that it employed a solution known as the accelerated bridge construction (ABC) method – whereby the units are built directly on the ground off-site, before being loaded onto SPMTs and installed.
A trench was dug beneath each 37 m-long section to allow for a beam to be installed under each end of the bridge. A 635 tonne-capacity gantry system was then used to lift the sections to the required height, which enabled the SPMTs to drive underneath each piece. Once in position the units were secured and transported to the abutments ready to set into place.
The heavy lift specialist said that this method avoided the need for work to be done at height, improved safety and allowed for a quicker loading time.
Once complete, the bridge will stretch 152 m-long over State Highway 114 in Texas.