Mammoet has delivered key equipment – including nine liquefied petroleum gas (LPG) tanks and several reactors – for the Duqm oil refinery project in Oman.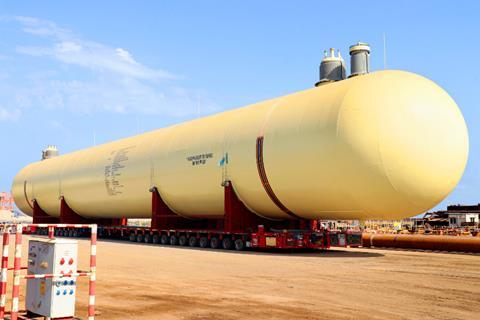 Mammoet was awarded two contracts to support the project – from a local manufacturer to transport nine LPG bullet tanks for the EPC-2 Offsite and Utilities scope of the project, and from Agility Global Logistics to receive and transport reactors.
To fulfil the first contract, Mammoet transported 780-tonne bullets, measuring 72 m x 11 m x 8 m, from the fabrication facility in Sohar (Oman) to the port of Duqm.
In Sohar, the tanks were loaded on to a barge, provided by Mammoet, using 44 axle lines of SPMTs. From Duqm, they were transported 25 km to the project site, before being positioned onto their foundations by 1,600-tonne capacity and 1,250-tonne capacity crawler cranes working in tandem.
The Agility project involved the handling of a 1,130-tonne reactor, measuring 33 m x 8.7 m x 7.3 m, at the port of Duqm. The reactor was delivered to the site using 54 axle lines of SPMTs.
Additionally, Mammoet has deployed ten hydraulic cranes and three crawler cranes at the refinery to support other subcontractors.
Mammoet said this was one of the first projects to be completed since the acquisition of ALE in January, as HLPFI reported here.
The Duqm refinery, a strategic investment for the sultanate of Oman, forms the cornerstone of the Duqm Special Economic Zone and will manufacture diesel, jet fuel, naphtha, and LPG in compliance with global standards.