Mammoet deployed its PT 50 ring crane to lift three modules for an expansion project at India's Paradip refinery.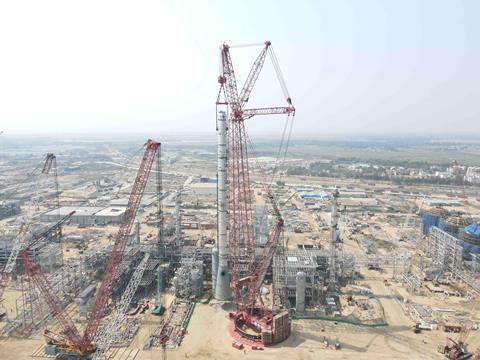 Mammoet was tasked with lifting a 646-tonne de-ethyleniser, a 1,141-tonne wash tower column and a 1,185-tonne ethylene-oxide reactor at the site.
Mammoet's PT 50 ring crane lifted all three modules as single pieces at two different locations. The heavy lift specialist explained that the use of other lower capacity lifting equipment would have required each module to be split into two separate pieces. Instead, the PT 50 ring crane allowed the installation to take place over two to three days rather thanthree weeks.
The company added that the ring crane's high load capacity allowed it to lift multiple heavy items each from a single lift position. Therefore, it did not need to be relocated between lifts – shortening the overall project schedule relative to the use of a smaller crane.
The expansion at Paradip refinery is expected to be completed in October 2021.