Cargoes destined for the Dos Bocas refinery project in Mexico have been loaded aboard Jumbo Kinetic in Phu My, Vietnam.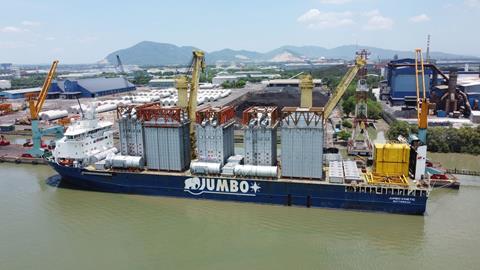 The shipment included radiant modules that measured 18.4 m x 13.4 m x 24 m, with the heaviest unit tipping the scales at 480 tonnes. The radiant modules together with the convection and stack modules form part of a fired heater in the refinery.
According to the Jumbo-SAL-Alliance: "The jigsaw puzzle of cargo was pieced together over the course of a few days where first the below deck area was filled with the smaller cargoes, then the hatches were closed up, and the heavy modules were carefully loaded on deck using single crane lifts. Our lifting plans for the stacks resulted in faster loading and less risk or damage to the cargo and by using uplift clips and stoppers to seafasten the cargo, we saved the client time and resources there too."
Jumbo Kinetic previously delivered a 1,850-tonne regenerator, measuring 42 m x 15.9 m x 15.2 m, to the refinery, as HLPFI reported here.