The Ninian Northern production platform jacket from the North Sea has arrived at Lerwick Port Authority's Dales Voe Base in the UK for the second phase of its decommissioning.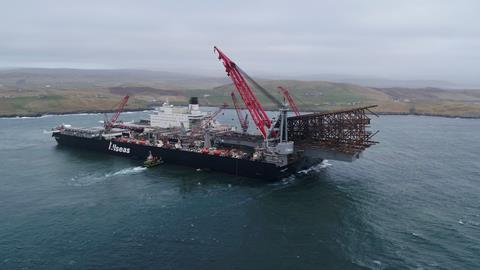 The 8,500-tonne, 83 m-high steel structure has been delivered by Allseas' Pioneering Spirit, following removal in a single lift from the field. 

Using its 5,000-tonne capacity crane, Pioneering Spirit will initially lift steel support structures, previously used in delivering the Ninian Northern platform topside for decommissioning in 2020, onto a barge for removal and reuse, clearing the way for the load-in of the jacket.
The vessel will then transfer the jacket via a barge, Allseas' Iron Lady, to the base in a complex operation over several days. The structure will be loaded onto a heavy-duty pad developed by the port authority in 2020; this pad was used to decommission the platform's topside, as HLPFI reported here.
"The size of the jacket and the scale of the support fleet is another demonstration of the harbour's established capacity to handle large – and even bigger – decommissioning projects," said port authority chief executive, captain Calum Grains.