The 14,200-tonne Ninian Northern platform topside has arrived at the Dales Voe Base at Lerwick port in Scotland for decommissioning.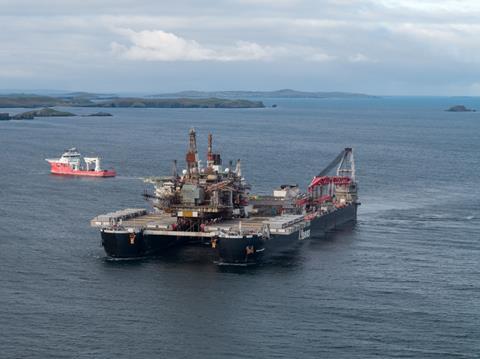 The topside is the largest offshore structure to be decommissioned at the deepwater port. It arrived at the port on Allseas' Pioneering Spirit, which removed the platform in a single lift.
Allseas' cargo barge Iron lady was used to transfer the structure to the decommissioning pad, which was designed by Arch Henderson and constructed by Tulloch Developments. It has an impermeable surface and a 60 tonne per sq m load capacity.
Lerwick Port Authority chief executive, Captain Calum Grains, said: "The arrival of the Ninian Northern topside at our Dales Voe Base is a welcome boost to activity in Shetland amidst the Covid-19 downturn and another very important stage in the development of Lerwick's reputation as an active, leading centre for decommissioning.
"The pad is a significant addition to our unique quayside infrastructure, not only as a catalyst for handling larger offshore structures, but also in attracting the interest of the renewables sector for future projects, particularly floating offshore wind developments."
Scotland's energy minister, Paul Wheelhouse, added: "Looking forward, the Scottish Government remains committed to establishing an ultra-deepwater port at Dales Voe to unlock even more opportunities for decommissioning of topsides and other oil and gas infrastructure by allowing the site to accommodate the largest heavy lift vessels currently in operation in the North Sea."