Over the course of two evenings, Omega Morgan's Portland-based specialised transportation crews delivered four adsorber vessels from the port of Vancouver to its yard in North Plains, Oregon.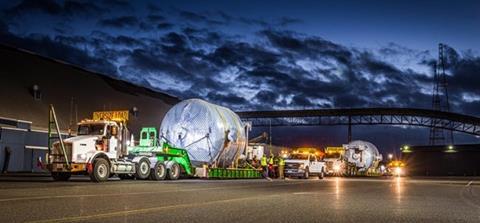 The move required particular planning to execute. As the vessels could not be loaded on standard flat trailers, Omega Morgan deployed two specialised 'tank' trailers that could safely transport the cargo to its yard and onto their final destination at a microprocessor manufacturing facility in Oregon.
Each adsorber measured 16 ft x 16 ft x 24 ft (4.9 m x 4.9 m x 7.3) and tipped the scales at approximately 68,000 lbs (30.8 tonnes). This meant that Omega Morgan had to work with state and county governments to acquire the proper permitting for the complex project.