Osprey Group has moved a concrete structure as part of a bridge replacement operation at Gipsy Patch Lane in Bristol, UK.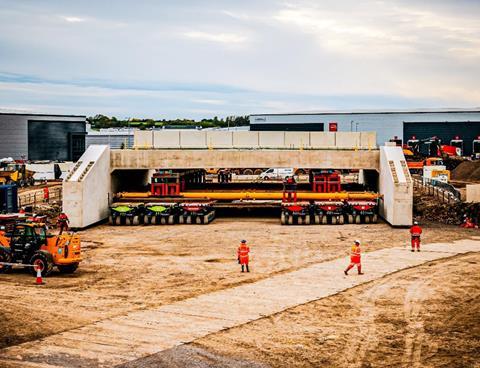 On behalf of South Gloucestershire Council, Network Rail has been replacing a railway bridge as part of a GBP57 million (USD78.1 million) investment. The project involved the installation of single-span reinforced concrete portal structure, which Osprey said is the UK's heaviest single-span bridge.
On behalf of Alun Griffiths (Contractors), Osprey delivered a full suite of specialist logistics to facilitate the works.
The structure, which measured 25 m in width, was moved on 144 axles of SPMTs. Osprey said it also deployed heavy lift cranes and an innovative arrangement of hydraulic jacks and longitudinal beams. The combined weight of the structure and the equipment tipped the scales at 5,200 tonnes.
During the replacement, teams removed overhead railway line equipment, dismantled and removed the existing railway track and ballast, demolished and removed the existing bridge and excavated over 30,000 tonnes of earth.
Mitchell Smith, Osprey project manager, said: "The Gipsy Patch Lane bridge is one of several in this programme of work for Network Rail, but it's the largest and the heaviest."