Mexican heavy haulage company Pesado Transport has delivered a 218-ton (197-tonne) gas compressor on a 16-axle Goldhofer THP/SL heavy-duty combination from the port in Veracruz to the Miguel Hidalgo refinery in Tula.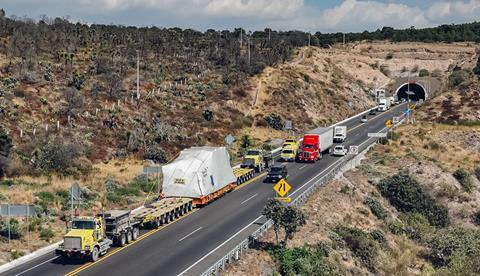 The compressor measured 14.8 m long, 5.3 m wide and 5.17 m high.
The height of the rig presented challenges when it came to passing through six toll plazas, and numerous bridges and tunnels along the route. To overcome this, the company opted for a dropdeck trailer with a payload of up to 300 tons (272 tonnes) and deck extensions for a length of 15 m.
The modular combination, which measured 65 m long and weighed 385 tons (349 tonnes), was operated as a push-pull tractor trailer rig with two Western Star 515 horsepower heavy-duty prime movers.