Crane service provider and heavy haulier Riga Mainz has used 20 axle lines of SPMTs from Scheuerle to replace eight railway bridges in Darmstadt, Germany.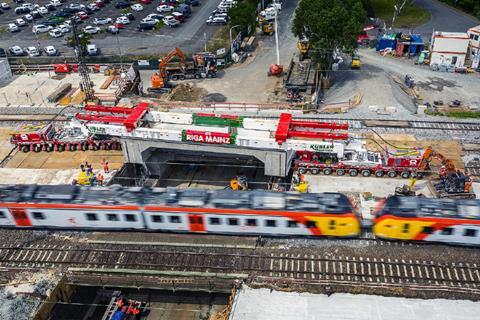 Riga Mainz was contracted to replace the bridges – which run parallel to each other crossing the Mainzer Strasse road – with 320-tonne concrete structures, without removing overhead lines.
The first bridges were located close to the road and were removed using a mobile crane. However, the remaining bridges were set too far back in the track bed and required a different approach.
Uwe Langer, managing director or Riga Mainz, explained: "We could lift the first bridges while parked on the road to their designated positions using a mobile crane. But we could not reach the remaining structures in this way at all. At the very least the use of a crane with a corresponding reach would be very complex and expensive. This is why we were looking for a more economical solution."
A side girder deck between two SPMT combinations was used to move the structures. On the girder deck, Riga Mainz installed a lifting system that it developed in house and is capable of lifting a payload of 500 tonnes.
The lifting system has a relatively low height and allowed the company to drive the combinations, loaded with the bridge structures, under the overhead lines.
For the removal of the old structures, the SPMTs were positioned under the old bridge. The lifting system was then deployed to raise the structure so it could then be moved from the track bed using the SPMTs.
Following this, the new bridge was suspended from the side girder deck and driven into position over the track bed. "As soon as it reached the correct height, we carefully manoeuvred it sideways under the overhead lines into the resulting gap with the help of the electronic multi-directional steering and brought it into position there," explained Langer.
Riga Mainz repeated this procedure until all of the eight bridges had been replaced, with the SPMTs carrying a total load of 570 tonnes per move.