Roll Group UAE has transported modules for Abu Dhabi National Oil Company's (ADNOC) Integrated Gas Development Expansion phase II (IGDE II) project.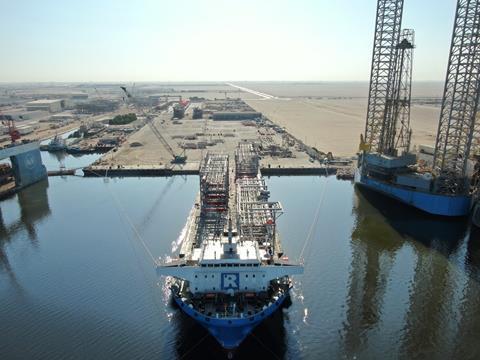 The IGDE II project will expand the amount of gas sent from Das Island to ADNOC Gas Processing's Habshan facilities in the UAE.
Roll Group was responsible for the weighing, land and sea transportation, and installation of several modules. The transportation scope began in December 2020 and was completed in five weeks.
Nimalan Logeswaran, regional sales director, said: "Due to the complexity of the project and the considerable logistical challenges involved in transporting and installing modules offshore during the winter season, Roll Group offered a bespoke solution utilising the BigRoll Biscay deck carrier instead of a standard barge to overcome the adverse weather conditions usually experienced enroute from Mussafah to Das Island.
"This allowed Roll Group to minimise the delays traditionally experienced for barge transport during the winter months, which in turn allowed Roll Group to complete phase one of IGDE II successfully and ahead of schedule."
BigRoll Biscay was added to Roll Group's fleet last year, as HLPFI reported here. The deck carrier measures 146 m long and 32 m wide. The works for IGDE II was its first project under the Roll Group banner.
Roll Group recently opened an office in Abu Dhabi to offer its land and sea heavy transport solutions for the Middle East and African market. Logeswaran explained: "The company strongly believes in project opportunities within the region. With its new regional head office in Mussafah, Abu Dhabi, and a wide fleet of onshore equipment already based in country, Roll Group can better serve our clients both land and sea transportation challenges in the region."
Roll Group will undertake a second round of cargo deliveries for the IGDE II project during 2021.